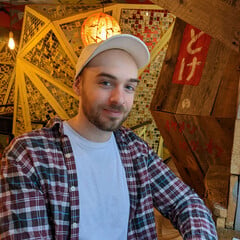 Dylan Abernethy
Lead Environment Artist at Compulsion Games
Montreal, Canada
Summary
Hello everyone, my name is Dylan Abernethy and I am an Environment Artist living in Montreal Canada. I enjoy making props, environment art and creating tutorials. If you ever have any questions feel free to get in touch ^__^
Gumroad: https://gumroad.com/dylanabernethy
Skills
3D Modeling
UV Mapping
Texture Baking
PBR Texturing
Sculpting
Hard Surface Modeling
Rendering
High-poly Modeling
Software proficiency
Productions
Video Game

Gears of War 5 (Post Launch)

Year

2021

Role

Senior Environment Artist

Company

The Coalition

Video Game

Far Cry 6

Year

2021

Role

Model Artist

Company

Ubisoft
Experience
Principal Environment Artist at Compulsion Games

Montreal, Canada

As principal environment artist at Compulsion games, I work closely with our leads, directors, and management to construct methods that realize our environment art needs. Along with our talented team, I work directly on the game's environment art creating modular kits, materials, assets, and more. Additionally, I manage one of our outsourcing teams by reviewing their work and bridging the gap between them and the rest of our studio.

Sr. 3D Environment Artist at Compulsion Games

Montreal, Canada

February 2021 - March 2023

My responsibilities as a Sr. 3D Environment Artist are to work alongside the talented folks at Compulsion Games, crafting stylish visuals from concept, to layout and completion. Strong communication skills, artistic abilities, and technical knowledge are required to bring forward the best product possible, and I balance these traits to help bring the artistic side of our project to life.

Sr. Environment Artist at The Coalition

Vancouver (Remote) , Canada

November 2020 - February 2021

• Contribute to the Environment Art team during all phases of production.

• Creation of 3d assets, textures and surfaces.

• Fixing bugs and polishing in-game assets.

• Actively accept feedback from the environment art lead and art director.

• Offer support to our OS reviewers/managers, and external artists if needed.

• Ability to work well under deadlines; self-motivated and works well in a collaborative environment.

Model Artist at Ubisoft Toronto

Toronto, Canada

As a model artist at Ubisoft, I am responsible for creating props and structures for our games. Alongside my team, I am tasked to recreate assets based on specific references and measurements. Through creative problem solving, I ensure that each asset is not only set up to be visually appealing but also usable within our game engine.

3D Environment Artist (Contract) at Reptoid Games

Toronto, Canada

As a 3D environment artist at Reptoid Games, it is my responsibility to take blocked out level concepts and transform them into fully realized game environments. For this position I am working on an upcoming VR title, meaning there is a heavy emphasis on game optimization. My team and I have been balancing both detailed hero props, as well as highly optimized modular kits/trim sheets to accomplish the most immersive experience possible. High fidelity 3D art, optimization, and clear communication with my team are all key components to my position at Reptoid Games.

Prop Artist at Dekogon

Canada

September 2018 - March 2020

My responsibilities as a Dekogon artist are to create high quality AAA video game props and materials, while keeping them optimized for functional use in games. I work remotely and am tasked to keep my work properly organized, labeled, and ready to be put in use. Dekogon has given me an amazing opportunity by allowing me to experience work as a game artist. Overall I am responsible for selecting the assets I wish to create, recreating them in high detail, optimizing them, and submitting the files using the proper corresponding naming conventions.

Summer Shorts Game Art Instructor at Durham College

Oshawa, Canada

The Summer Shorts Workshop is an opportunity for teenager to get exposed to a plethora of multi-media programs held at Durham college. My position at the workshop was to teach teens the basics of video game design, covering a variety of software over the span of one week (the program ran for four weeks total). My partners and I were been responsible for creating weekly lesson plans, teaching the students, and making sure everyone both follows instructions and had a good time.